A cleft chin is a common facial feature where the person has a line dividing their chin, which is why it's also called "butt chin". A jawline shape determined by DNA is the most common cause of a prominent cleft chin.
This inherited trait might also be a form of a slight bone deformation, which was developed during the fetus' growth period. A cleft chin is apparent since the lower jaw bone hasn't completely formed and attached, which is why it appears as a double bone, causing the dimpled chin.
This either happened because your lower jawbone didn't fuse properly during your fetal development, or it might be because there's a wide space between your chin muscles, pulling the skin on the chin. But don't worry – cleft chins can disappear from your mirror's reflection.
In this article, we'll cover some of the basics on how to get rid of a cleft chin, like:
👄 Cleft chin surgery and chin implants.
💪 Exercises for chin muscles.
💉 Filler injections and other minimally invasive techniques for chin cleft.
Now that we have covered what it is and what causes the chin dimple let's see what your options are if you'd prefer living without a cleft chin.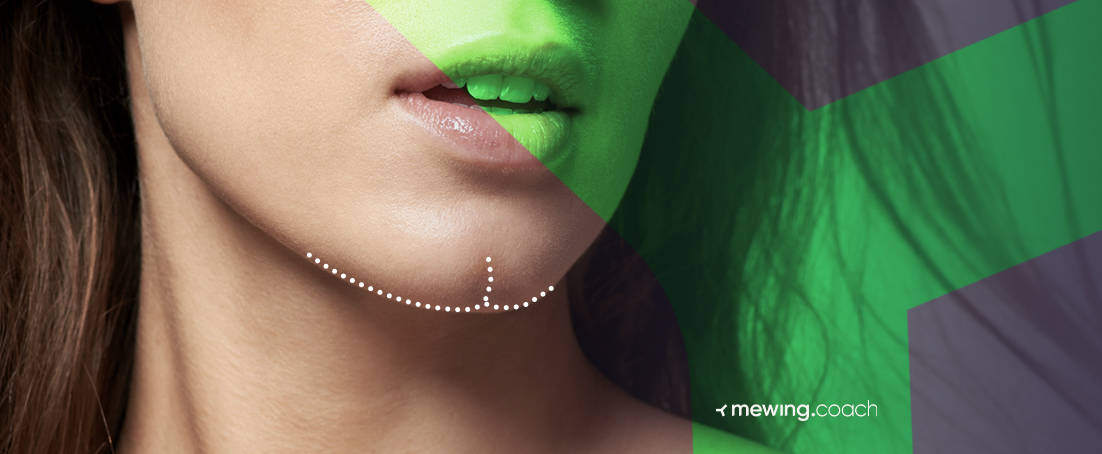 Can Cleft Chins Go Away by themselves?
Sadly no, but there are some techniques you can use to lessen the problem, like mewing. However, the ways to improve the chin by mewing are more likely to work if you're younger. This is because the soft tissue inside the bones is more concentrated in babies, infants, and kids (up to their teenage and even adolescent age).
So if you're at your mature age, you might need to ask for some additional procedure or assistance to change your natural appearance and then continue with the proper exercises to prevent a dimpled chin from settling back to your face.
The Surgical Way to Losing Your Cleft Chin
A cleft chin is not a medical condition nor gets in the way of your everyday body functions, such as breathing, chewing, or making it through the day without any pain. Though they're performed by doctors and usually inside hospitals or medical institutions, each procedure explained here is not covered by your healthcare insurance and is considered cosmetic surgery.
As you might already know, this costs more than going to the hospital for life-saving and unavoidable surgery.
Genioplasty
Genioplasty is a plastic surgery that modifies the chin bone or adjusts the mentalis chin muscles to easily attach over the chin's tip and form a unified layer of skin. There's no visible incision, and the surgery results depend on your further actions, such as dietary regimes and exercises.
The surgeon makes a small cut with a saw just under the chin, on the bone, which is why it is also called osseous genioplasty – bone surgery.
However, this is a serious medical procedure that requires patients to be fully anaesthetized, and recovery takes a while – around two months. In this period, you're also required to eat soft and liquid foods, which takes the pressure away from too much movement and exercising the jawline. At the same time, it's a hefty charge that it's $7,500 on average, to allow for bone recovery to go smoother.
Getting a Chin Implant
It's up to you and your personal preference whether you like to remove your cleft chin dimple or even correct the chin size and the shape of your chin, make it a rounder shape or sharpen it. Another way to do this, which is a type of cleft chin surgery, is by inserting medical implants, which are usually made out of special plastic or silicone to modify the shape of the chin.
Less Intrusive Cosmetic Procedures for Cleft Chin Removal
There are also other less intrusive ways to get rid of a cleft chin. Here are some of the most common ones:
Filler Injections
Botox is one of the most commonly used substances in plastic surgery and corrective treatments. Correcting your chin dimple with botox will be a less painful and invasive method of correction because botox is injected directly into the chin area.
Since you already know that botox is one of many ways to tighten the skin under the chin, the injection will paralyze and "freeze" the targeted chin muscles, softening the chin area and smoothening the cleft just as any other wrinkle on your face.
Depending on the size of your cleft, it might not be completely invisible; hence, the results only last for 3-6 months.
Dermal Fillers
Hyaluronic acid fillers are the most commonly used for treating chin dimples. They are directly injected into the cleft to add up on chin volume, evening with both sides of the chin. Over time, 6 to 10 treatments with fillers can round up your chin's appearance.
The Fat Grafting Procedure
Last but not least, instead of getting rid of fat, this procedure injects your own fat back into your body – but in a different place! Yes, compared to all previously mentioned fillers, fat is the most permanent filler and has the highest acceptance rate since it's already part of your body. Depending on your body type, the fat is taken from your belly or hips and then injected into your chin area.
Natural, Non-Surgical Ways to Erase The Chin Dimple
To be honest, there's no natural method to help completely eliminate your cleft chin, but exercises sure do help to at least make it less prominent. Aside from the chin-tucking benefits, there are some exercises that can help improve your chin anatomy.
Practise Mewing
Mewing is one of the most common niches of facial yoga that has helped thousands of people across the globe. Solving double chin, misaligned jawline, and improper head and body posture are among the numerous benefits of mewing.
Since it involves hidden inside-mouth movements and tongue positioning, mewing can be of large benefit for improving your chin's appearance as well. Our Mewing.Coach app is the perfect choice to start mewing. Why? It's free, and has built-in personalized training routines, video tutorials, and auto reminders for forgetful mewers.
Additionally, mewing can be beneficial after surgery, so don't hesitate to download our app and start with soft exercises to get you back on track in no time.
Fix It With Make-Up
Makeup is not a permanent solution. However, you can always lean on some good makeup tricks and contouring effects to completely disguise your chin cleft. The best thing is that you can wear makeup daily, so people at work and your chit-chat friends will never know you have a cleft chin, to begin with!
Wrapping Up: How To Get Rid of a Cleft Chin?
Clark Gable, Kirk Douglas, and John Travolta are popular Hollywood actors who have been desired by many and even put on magazine covers, despite their cleft chins. There is even a chin surgery procedure to get a booty chin! So it's really a matter of individual taste and preference and feeling good in your own skin.
If you, however, don't have the money or the courage to fix your dimple with surgery or filler injections, our Mewing.Coach app is just a click away. It costs nothing but a few minutes of your time, and you'll have the company and pushing of a personal virtual coach to get your desired looks and regain your confidence.