Does exercise help acne? Before we answer this question, it's important to get a proper assessment of the condition of your skin – it's the only way to do this right.
Let's start with a quick quiz below.
In just a few minutes, you will not only learn more about your skin but also get:
✅ Personalized beauty program
✅ Daily exercise regimen
✅ Help with addressing skin concerns
✅ Tips in the form of video guides
✅Daily reminders.
Once you've established your skin goals, it's time to focus on the problem at hand: acne.
Many people struggle with acne breakouts, some even past their teen years. In some cases, the appearance of acne is tied to genetics, but that doesn't mean you can't maintain a beauty routine that'll contribute to its improvement.
Did you know that exercising is the solution you've been looking for to create clear and striking skin? You don't need to overspend on expensive products, facials, and medical treatments.
And you don't need to cake your face with makeup to hide your imperfections.
In this article, you'll learn:
🏃‍♀️ How exercise can help you reduce acne and keep your skin clean
💦How excessive sweating affects your skin and oil glands
🧐 How facial exercises, like mewing, offer many health benefits in managing acne
🧴 The best skincare regime to maintain clear skin before and after exercising.
Let's get started!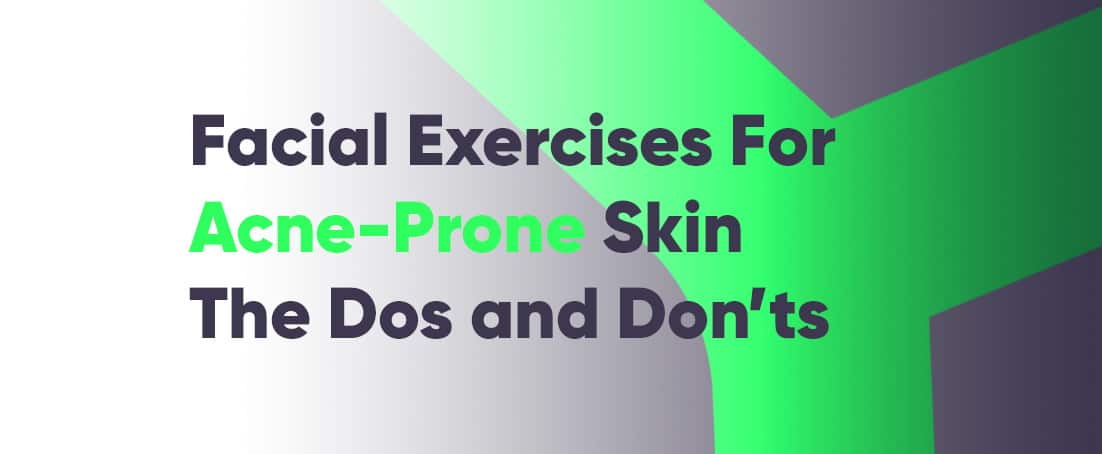 Let's Try to Understand Acne Better
Your face is covered in hair follicles. When you have clogged pores and dead skin cells, they can produce whiteheads, blackheads, and pimples.
Acne most often appears on your face but can show up anywhere you have pores. Acne is caused by the presence of bacteria and excess oil that can block pores. It can also be caused by inflammation and clogged follicles.
Diet, stress hormones, and specific medications can stimulate acne-causing bacteria. If acne is not treated, it can lead to scarring and hyperpigmentation.
Acne's Causes and Effects on Adults
Extreme hormonal changes during our teenage years can lead to increased sebum and clogged pores. But hormonal changes do not stop after your enter adulthood. Pregnancy and menstrual cycles in women can also cause inflammation.
The main causes of acne are:
Age. It begins with puberty, but inflammation can occur with hormonal changes.
Genetics. Some of us are more prone to acne than others. Look into your family history to learn more.
Oil substances. If you are frequently exposed to oils in food or creams which are not balanced for your skin, this can exacerbate the problem.
Friction. Anything that rubs against your skin, such as a cell phone or helmet, can increase the oil production of your skin and lead to clogged pores.
Diet. Foods high in sugar, carbohydrates, and oil can cause your pores to produce excessive oils. An unbalanced diet and overconsumption of sugary foods can lead to a spike in your blood sugar, causing an acne breakout.
Stress. Stress hormones will not cause acne on their own; however, they will cause an existing problem to worsen.
The Benefits of Exercise for People with Acne Prone Skin
Exercise is important to maintain a healthy body and is excellent for raising blood circulation in face area. Your skin is the largest organ of your body, so it makes sense that what is healthy for your heart will also be healthy for your skin.
Let's look at some of the top benefits of exercise for acne-prone skin:
Stress relief: When you exercise, you naturally release endorphins, your body's "feel good" hormone. The repetitive movement of many exercises can also help to distract your mind from stressful situations. The long-term effects of exercise are improved well-being and reduced stress.
Balancing blood sugar levels: Regular exercise stabilizes your blood sugar levels. Morning exercise can have a particularly high benefit for your blood sugar as it keeps things balanced all day long.
Improved circulation and oxygen delivery: Exercise stimulates the production of nitric oxide and increases oxygen levels. This can cause the blood vessels to relax and improves circulation. If you want strategies for making your face skin elastic again, exercise is the way to go.
Role of endorphins in skin health: When you release endorphins, your stress levels are decreased. Since stress is one of the leading factors contributing to acne, your skin will also benefit from this hormone.
Types of Exercises for Acne-Prone Skin
Physical activity helps the health of your skin and can improve the least attractive facial features. Let's take a look at how can exercise help acne:
High-Intensity Interval Training (HIIT)
HIIT allows you to get all the benefits of a workout in half the amount of time. It is an excellent aerobic exercise to build strength and burn a lot of calories quickly.
Low-intensity Workouts and Mindfulness Techniques
Low-intensity workouts include walking, yoga, cycling, swimming, stretching, hiking, and even standing. These activities are a step toward a healthy body and the reduction of acne.
Incorporating Mewing Naturally
Use facial mewing exercises for your facial muscles. Mewing is an easy procedure that can be done while watching TV, being stuck in traffic, or lying in bed. If you are not familiar with mewing, it is the process of properly placing the tongue at the roof of the mouth while closing your lips. It sounds simple, but to be sure you are doing it properly and to maintain a successful routine, it is best to get some support.
Mewing Coach is an easy-to-use app that can teach you all the basics for performing mewing properly to achieve the best results. Not only will Mewing Coach provide you with exercises to tone your facial muscles – it will also remind you to exercise daily, track your progress visually and help you to be sure you are doing the exercises correctly. This incredible exercise has many benefits, including eliminating facial fat on a skinny body.
Why Facial Exercises Work
Mewing specifically targets the facial muscles. In the way that you do core exercises to strengthen your core muscles, mewing is a way to do facial exercises and strengthen your entire face. To see photographic proof of how this awesome method is changing peoples' faces, take a look at real mewing results in pictures.
Mewing has a broad list of benefits, including being hygienic because it doesn't require you to touch your face. Remember how we said friction worsens acne? Touching your face is another form of friction. Mewing is the perfect technique to strengthen your face specifically because it does not require you to touch it.
Pilates
Pilates is another exercise you can do with limited or no equipment. It can be done at home or at a pilates studio and will provide you with incredible benefits such as a strengthened core and reduced stress.
Running
Running is fantastic because it requires nothing more than a comfortable pair of running shoes. Make sure to stretch before and after your workout, and if you have knee or other joint problems, switch to brisk walking. Over time, your stamina and overall health will improve significantly.
Relationship Between Sweat and Acne
Sweat does not cause acne. Actually, sweating is excellent for detoxing your body, moisturizing your skin, and eliminating bacteria on its surface! However, if you let the sweat dry on your skin without rinsing or wiping it off, it will contribute to your acne.
Skin Care Before and After Exercise
Ensure proper skin care for your next workout – take these easy steps to protect your skin before and after a workout:
Pre-workout Skin Care Tips
Exercise without makeup. Make-up can clog pores, so make sure to work out with a bare face.
Pin your hair away from your face. Your hair has natural oils that can trigger acne.
Your exercise clothing should be clean. When selecting workout clothes, avoid tight-fitting ensembles. Sweaty clothes contribute to breakouts.
Post-workout Cleansing and Skincare Routine
Don't touch your face, and use a clean towel. Do this especially if you work out in a gym -communal gym equipment can lead to breakouts as it has bacteria.
Drink plenty of water! This will help flush toxins out of your body.
After exercising, wash your face using an oil-free cleanser. If you cannot shower, use micellar water to wash your face and remove bacteria.
Selecting Appropriate Workout Gear for Acne-prone Skin
Select clothing that is breathable and wicks away moisture from your skin so that bacteria does not build up. Avoid tight-fitting clothes on areas of your body where acne accumulates to deter friction.
Final Thoughts
Acne past your teen years is a common occurrence, and it shouldn't make you feel helpless. Dermatologists recommend exercising outdoors, drinking plenty of water, and maintaining a diet low in sugar, carbs, and oil.
Don't forget to exercise your facial muscles by adding mewing to your daily routine! Aside from clearing acne, mewing can strengthen your jawline and get rid of a stubborn double chin. Follow these suggestions to be in awe of your reflection every time you see it!